Online MHA Program Objectives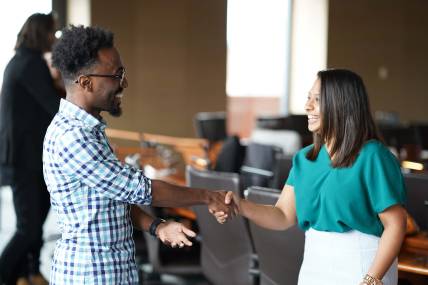 Upon completion of the Online Master of Health Administration, you will be able to:
Develop strategies and align organizational design to support and achieve an organization's mission and vision.

Manage and lead diverse people, teams, and organizations to build inclusive healthcare institutions.

Use data and evidence-based management practices to improve decision-making and organizational performance to provide the highest quality of patient care and equitable access to services.

Develop and manage innovative solutions to improve organizational performance and population health.

Influence and respond to policies that promote optimal performance of the US healthcare system and healthcare organizations, based on understanding and analysis of the system's history, organization, and financing.

Apply knowledge about the social determinants of health, and work collaboratively with leaders across sectors—including housing, education, transportation, and others—to reduce disparities and inequities and to promote population and community health.

Provide effective financial management for healthcare organizations.

Communicate effectively with diverse stakeholders.

Manage and behave legally and ethically in a complex, highly-regulated healthcare environment.
Program Outcomes
NYU Wagner's Online MHA degree will help you achieve your immediate and long-term goals to advance your career in healthcare.
Immediate: You will gain the skills and knowledge to enable you to move from an entry-level management position to a more advanced leadership role.
Long-term: You will develop your skills and acumen and be able to lead complex organizations, making an impact on US healthcare systems.