What Can You Do with a Masters in Healthcare Administration?
By: Online MHA Program Staff
It all changed as the nurse manager delegated responsibilities to her team, identifying the strengths and weaknesses of each caregiver.
In that moment, her career trajectory changed. She realized she had a knack for managing personalities, coordinating schedules, recruiting staff and reaching targets for care quality metrics.
At three years old, she knew she wanted to be a nurse. Watching the staff at a small community hospital lovingly care for her dad after a life-threatening farming accident inspired her to pursue a career in healthcare.
At 30, she knew she wanted to be a healthcare manager. A master's degree in health administration helped her get there, and she is now the regional president of one of the 25 largest health systems in the country.
This is just one story in a series of possible outcomes that demonstrates why you should get a master's degree in health administration, and NYU Wagner's Online Master of Health Administration (MHA) is the key that can open a door to a range of possibilities­.
Demand for Leaders in Healthcare
Finance manager, chief technology officer, director of patient services – these are just a few job opportunities that a master's degree in health administration unlocks in a sector that has built-in demand. About 10,000 Baby Boomers are turning 65 every day, according to AARP, which means healthcare is a safe bet for aspiring administrators.1
Healthcare accounts for nearly one-fifth of the nation's total gross domestic product. The $3.3 trillion healthcare industry is nearly the size of the German economy.2
National health expenditures grew 4.3 percent from 2015 to 2016, according to the Centers for Medicare and Medicaid Services.3 National health spending is projected to grow at an average rate of 5.5 percent per year through 2026 and reach $5.7 trillion.4 While this projected average annual growth rate is more modest than the 7.3 percent observed prior to the Great Recession, it is faster than the 4.2 percent growth rate over the 2008 to 2016 period.5
Health spending is expected to outpace gross domestic product by 1 percentage point for the better part of the next decade, which means that it will comprise nearly one-fifth of the American economy by 2026, according to the CMS.6
The healthcare industry will continue to drive the nation's employment growth through 2026 by adding around four million new jobs, accounting for about one-third of total job growth, the U.S. Bureau of Labor Statistics estimates.7
Bottom line, healthcare is recession-proof, and  a master's degree in health administration equals job security. People are going to get sick and they will need care. That's where you step in. What can you do with an MHA?
Responsibilities and Work Environment
Healthcare is no longer confined to the hospital. It requires a diverse team to manage clinical operations across growing ambulatory and telehealth networks. Transforming large data sets into actionable, elegant visuals can inspire physicians and frontline staff to improve.
MHA graduates can also go the government route, working at agencies like the Centers for Disease Control and Prevention or the United States Department of Veterans Affairs. While some government jobs pay less than the private sector, the pensions are attractive and public service offers a fulfilling career.
Outside of hospitals or the government, healthcare managers can work at nursing homes, insurance companies, rehabilitation centers, behavioral and mental health facilities, universities and research institutions, or at associations like the American Hospital Association.
The field is expected to grow by 20 percent from 2016 to 2026, vastly outpacing the 7 percent average growth rate for all occupations, the BLS estimates.8
The rapidly evolving healthcare industry is seeking aspiring leaders with diverse backgrounds. If you have experience outside of the healthcare field, that is viewed as an asset too.
Managers who are well versed in consumer experience are also in high demand. Health systems like Intermountain Healthcare in Salt Lake City are seeking consumer experience professionals.
Job Opportunities
What other kinds of jobs can you get with a master's degree in health administration?
Chief operating officers are surveying a new healthcare landscape. They are looking at ways to monetize underused real estate properties as healthcare operations require less space. They are searching for the right partnerships and acquisition targets as hospitals look to grow their patient base, develop economies of scale, and streamline clinical processes.
Nursing leaders are managing more nurse navigators working in population health management as they look to keep patients healthy, improve access to care, and prevent costly hospital admissions. They also strive to make it easier to move patients across complex health systems by sharing data and adopting best practices.
Procurement managers are tasked with leveraging large data sets to find the most cost-effective equipment that can be used across the organization. They work with physicians to understand their preferences and what equipment and supplies deliver the highest level of patient care, arming them with quality and cost data. They are exploring new relationships with device manufacturers as they collaborate on reducing clinical variation. They are working around equipment shortages and recalls as they seek to establish a resilient supply chain.
Compliance officers ensure that hospital operations satisfy the latest regulatory framework. They earn top dollar because the failure to comply with rules like HIPPA, the tax code, and medical device warranties can translate to multi-million dollar penalties. They must understand the legal liability of medical device sales representatives that give doctors free meals or posh speaking gigs in exchange for using their product. They also work closely with the IT department to ensure electronic health records and other digital platforms have the necessary firewalls that prevent cyber attacks.
Population health and community health officers are emerging roles within health systems. These executives must understand all the social determinants of health, related to education opportunities, the implications of living in food deserts, access to healthcare services, and the availability of transportation. This requires tight-knit relationships with social workers, community organizations, food banks, and small businesses that can help you reach patients before they get sick.
Revenue cycle managers streamline hospital's billing, debt collection, patient registration, and claims processing. They develop strategies to minimize a hospital's bad debt load, or outstanding bills, by designing new types of software to process payments more efficiently. Progressive revenue cycle experts are installing kiosks in clinics and hospitals that automate a patient's insurance and co-payment information, similar to the airline industry.
Marketing officers look to ensure that a healthcare organization's brand and mission are expressed through every mobile app, advertisement, conference, and health fair. Marketers are trying to reach consumers through new mobile platforms. They are understanding the pain points in the patient experience by sitting in waiting rooms, trying to book an appointment, and navigating the billing process.
Human resource officers are trying to find creative ways to attract and retain employees. This involves exploring leaders in complementary industries like technology or hospitality, developing unique pay and benefits, and improving turnover metrics. They may boost benefit packages through tuition and loan reimbursement or adopting more flexible schedules. Diversity and inclusion managers aim to implement a new hiring policy that reflects the backgrounds and ethnicities of their patients. The goal: fostering a healthy, sincere, competent, and vibrant culture.
Six-figure Salaries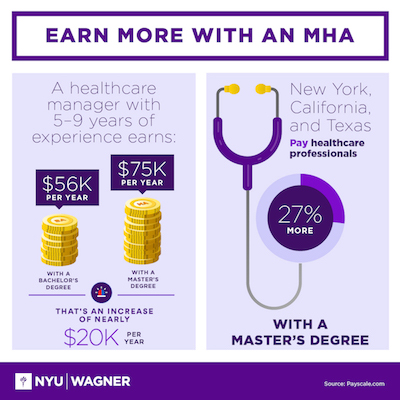 Master's degree holders earn significantly more than employees with bachelor's degrees. The median salary for those with a master of health administration  is $75,000, compared to $56,000 for bachelor's degree holders, according to Payscale.com.9 The annual salary estimate for people with a master of health administration  is even higher according to the Bureau of Labor Statistics, at $98,350.10
Bachelor of science in health administration degree holders with less than one year of experience earn an average of $41,426 a year, according to Payscale. Those with one to four years experience earn $49,591, while people with five to nine years of experience earn $57,824, 10 to 19-year employees earn $67,247, and veterans with 20 or more years earn $79,228.11
MHA degree holders with less than one year of experience earn $51,640, according to Payscale. Those with one to four years experience earn $61,912 while people with five to nine years of experience earn $74,509, 10 to 19-year employees earn $89,802 and veterans with 20 or more years earn $108,817.12
These entry-level positions typically require a bachelor's or associate's degree and two to five years of experience in the field. Mid-level jobs often require five to 10 years of experience and at least two years of managerial experience.
A master's degree demonstrates to your employer that you have put the time and investment into your education and will show similar dedication and initiative in your career. This will result in higher salaries and more opportunities to move up the ladder.
Salaries for healthcare administrators with master's degrees in Chicago range from $58,920 to $103,126, Payscale's data shows.13 New York administrators earn $48,884 to $107,463, Washington D.C. employees net $51,898 to $102,974, Atlanta healthcare administrators earn $50,048 to $95,777, Dallas administrators earn $49,000 to $107,000, and those in Los Angeles take in $54,411 to $110,147 annually.
One of the most well-known and widely-respected employers is Kaiser Permanente, which has a large footprint throughout California. The majority of its budget is dedicated to salaries and benefits. California also leads the nation in total healthcare spending at more than $300 billion a year, according to the Kaiser Family Foundation.14
Associate's or bachelor's degrees are the minimum requirement for a healthcare administration job, but master's degrees put you on the fast-track toward the C-suite.
Salaries for top executives continue to rise. Average total cash compensation, which includes base salary and benefits, across 39 health system executive positions rose 4.8 percent from 2017 to 2018, compared with a 3.6 percent annual increase for 12 hospital executive positions analyzed, according to a Modern Healthcare analysis.15
The annual increase in total compensation is down from last year's 6 percent increase, but health system executives took home raises of 6 to 8 percent over three of the past four years, up from around 2 percent in 2014.
Certain executive positions received increases in average base salaries and total compensation of at least 4 percent, including the CEO, chief administrative officer, chief technology officer, human resources, legal, public affairs, clinical nursing officer, ambulatory care, pharmacy, process improvement, managed care, and support service executives.
Systems' top ambulatory care executives drew the biggest pay raise in average total cash compensation, which increased 7.1 percent to $377,300. Upper managers in construction, human resources, legal services, nursing, revenue cycle, medical informatics executives, and professional services took home the next biggest pay hikes.
Expanding Salaries and Benefits
Salaries and benefits are getting even more competitive as health systems cope with challenging environments. Recruiting and training employees comes at a great expense, so they are willing to spend more to attract and retain you.
Worried about the student debt associated with a master's degree?
Healthcare is adopting loan repayment and tuition assistance programs in greater volume and speed, industry observers state.
Houston-based Memorial Hermann Health System offers $20,000 a year in loan repayment. If you're seeking a to switch from patient care to finance, they'll finance a significant portion of your education.16 Memorial Hermann also beefed up its pay and benefit structures to include a 403(b) match, paid time off accrual, and out-of-pocket medical cost coverage.
Health systems are adapting to the demands of a younger workforce. They are catering to young parents who need childcare services. Progressive providers are adopting more flexible schedules and providing opportunities to advance your career. They are implementing new onboarding techniques to ensure that employees are happy and fulfilled. A number of providers are coordinating employee appreciation programs and giving employees more autonomy.
Creative Curriculum
Healthcare is one of the most exciting fields and provides a rewarding career path. You have an opportunity to make indelible impacts on peoples' lives by restoring a person's health, or making their pain easier to manage.
The job opportunities are virtually endless as healthcare expands its purview as it looks to reach patients before they get sick. The rapidly aging population also means that healthcare jobs will continue to be in high demand.
NYU Wagner's Online MHA degree program will set you up for success. NYU Wagner is ranked #2 in Health Policy & Management among schools of public affairs by U.S. News & World Report.
The seven-semester, part-time program is designed for working healthcare professionals.
In a small interactive setting with 15 students, your peers and teachers will help you navigate healthcare's most complex challenges. You will have one hour of live discussions per week, per course.
Curriculum highlights include:
Strategic management and entrepreneurship for healthcare organizations

Skill development in communication, leadership, evidence-based management, and ethics

Financial management and health economics

Healthcare law, governance, and current issues in health policy

Healthcare IT and data analysis

Principles of human resource management for healthcare organizations

Healthcare marketing and strategic communications  

Continuous quality improvement
You will analyze case studies and complete assignments that you can immediately apply to your career. Your semester-long capstone project will give you access to a state-of-the-art healthcare system simulation that will put your skills to work as you navigate real-world issues. You will attend one on-site, two-and-a-half-day immersion in New York City, with lodging and meals covered by NYU Wagner.
Help shift healthcare's direction through outstanding leadership. Let NYU Wagner help you write the next chapter in your career.
Interested in learning more?